Why Affordable Dreams
What do you envision when you peer out at your front yard and backyard? Can you see rolling waterfalls with stunning decorative rocks, strewn together effortlessly by an experienced landscape designer? As licensed contractors, we can provide you with custom patios and water features that will attract everyone to your amazing yard.
How will my landscaping work stand up to the elements in the Ogden or Salt Lake City, Utah metro areas?
Our supply office in Ogden is stocked with a great deal of documentation for the proper winterization of your water features and other vulnerable items. However, part of the design process for your landscaping project is to choose flora that adapts well to the unforgiving Utah climate. And, as part of our promise of excellent customer service, you will get full training on winterizing anything that could be damaged by the snow or cold. Alternatively, we can help you to create a design for a landscape that can handle the seasons without any extra maintenance. We encourage you not to be intimidated by a little snow when it comes to making your dream landscaping a reality. Please give us a call, and we'll send out a licensed contractor to draw up plans with you during a pleasant conversation.

How do you get started?
Call us to schedule a meeting when you're in Salt Lake City, Utah, or come to our supply offices in Ogden. You'll get to meet face to face with an experienced landscaping designer that will welcome the challenge of customizing real property that exceeds your expectations. During this meeting, you can choose from many options such as water features, decorative rocks, elaborate patios, BBQ pits, and more.
Are you able to make changes?
As with most licensed contractors that serve the Salt Lake City and Ogden areas of Utah, questions about change orders can complicate things. However, we prefer that you make changes to the design when it is in the "pencil stage." In other words, the best way to take advantage of our landscape design services is to be patient and fussy about the details before the work begins. For example, you may want to move your decorative rocks to a place where we planned a patio and BBQ pit. You may also decide to move a water feature to the backyard rather than the front, which is great when we're working with a rendering. With all of that covered, the efficient and cost-effective way to get your landscaping done is to think critically before work begins.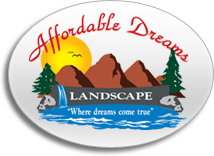 Landscaping Tips

Did you know that many problems that plague a yard stem from a poorly designed sprinkler system? Learn More